A Flooring guide to every room at home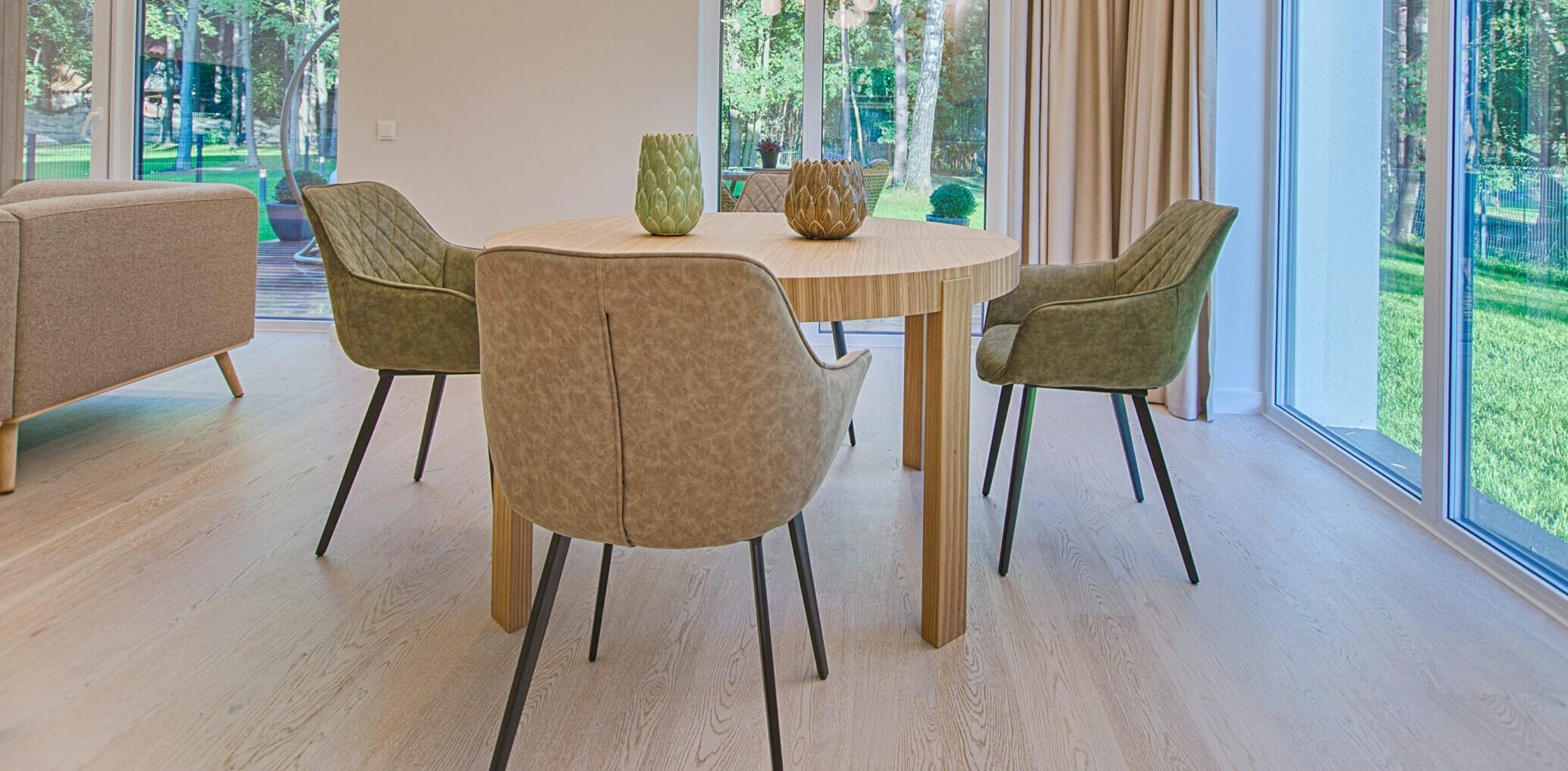 When renovating your home, you get to pick different types of flooring which will be an important consideration. With careful planning and execution, you can create a smooth and flowing combined area that is comfortable for everyday use while also being ready for entertaining.
After all, the type of flooring in every room determines the appearance of your living spaces. The fact that floors take up so much space in each home demonstrates how crucial flooring is to both appearance and functionality. It is critical that the flooring you choose for your rooms are practical and visually pleasant which fits into the entire theme of your home. Any home can be made to appear warm, large, or even luxurious depending on the flooring you choose.
Living & Dining Room Area Flooring
The Living and Dining Room Area is an important space where members of the family gather and interact with one another, providing a respite for family members when they return home. Due to the COVID-19 situation in Singapore which has forced families to spend more time at home, the Living and Dining Room space has been utilized more than before.
Choosing the right flooring will help to create a welcoming and inviting space, be it a contemporary or a traditional look. Aesthetics are important but practicality should not be overlooked. The flooring in the Living and Dining Room area should be durable, able to withstand a constant stream of traffic, comfortable, and easy to clean.
With all these considerations in mind, wood flooring would be a great option for wood lovers. Others may choose to do up their Living and Dining Room Area with vinyl flooring.
Our Signature Wood Flooring series, which ranges from Burmese Teak to American Walnut to other various species will be perfect for Living and Dining Room Areas. Wood flooring can help prevent allergies as they do not attract any type of allergens or molds. As a result, the indoor environment is safer than it usually would be with other types of flooring. Wood flooring is a great option for your Living and Dining Room Area as it provides your home with healthy air quality and does not trap unpleasant odors.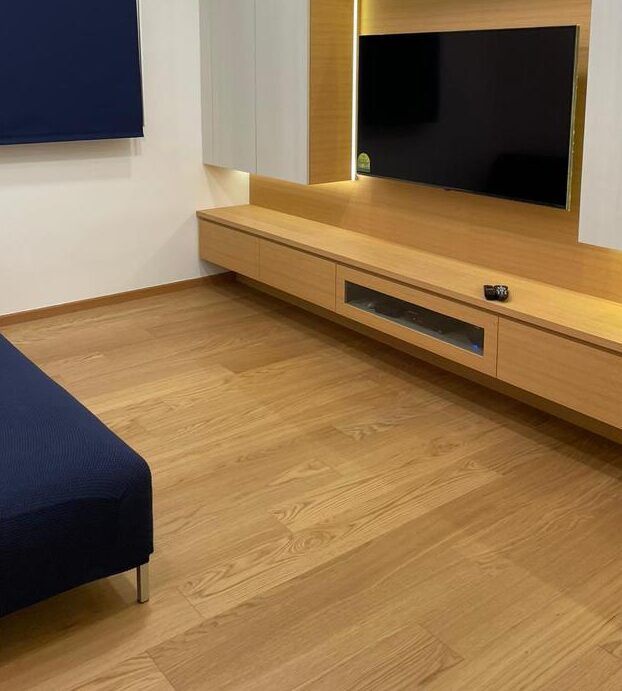 Bedroom Area Flooring
The bedroom is a personal space where we retreat after a long day to rest. The bedroom flooring is the first and last thing that your bare feet come in contact with in the morning and before having a good night's sleep. Hence, the main selection criteria for bedroom flooring are comfort for bare feet. Using our Signature Wood Flooring series as your bedroom floor will allow a warmer feel and it will be more resilient when compared to tiles and stones.
Wood flooring can be used in most areas of the house, including the bedroom, living, and dining area. This will create a consistent feel and look throughout your home, allowing for a smooth transition from your bedrooms and living and dining area.
Kitchen Area Flooring
Durability and ease of cleaning are top criteria for the Kitchen Area Flooring. In addition, this area should have the easiest-to-clean floors in the house and should be kept clean and hygienic as it is an area where food is being prepared.
Vinyl Flooring would be an outstanding choice for the Kitchen Area Flooring as the vinyl material is nearly impervious to stains, damage, and, water-resistant. It is a popular choice for busy high-traffic kitchens and it allows easy cleaning with a quick sweep, vacuum, or mop to keep the floor spotless. Vinyl Flooring is amongst the most affordable solution of all flooring materials to install. If a certain area of the floor is being damaged, the replacement of a few pieces of Vinyl Flooring would be affordable and a rather easy task.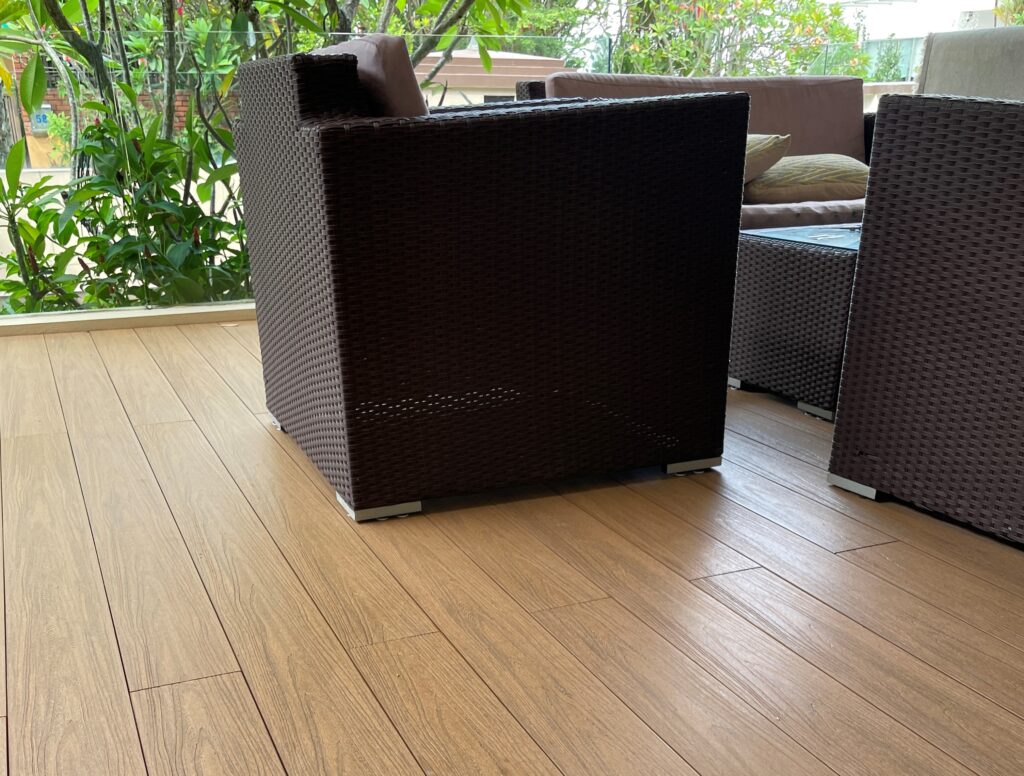 Balcony/Outdoor Area Flooring
The balcony is an outdoor space that should be utilized to its best potential. However, not every home in Singapore will have a balcony area. If you have a balcony, you can utilize it for a variety of things such as alfresco dining, relaxing, and reading. The type of flooring used in the balcony area would depend on the amount of direct sunlight and rain.
Our
Wood & Plastic Composite (WPC) Decking
would be a top choice for your balcony or outdoor area as they are highly durable, cost-effective, easy to maintain and most importantly, gives a luxurious and comfortable feeling.